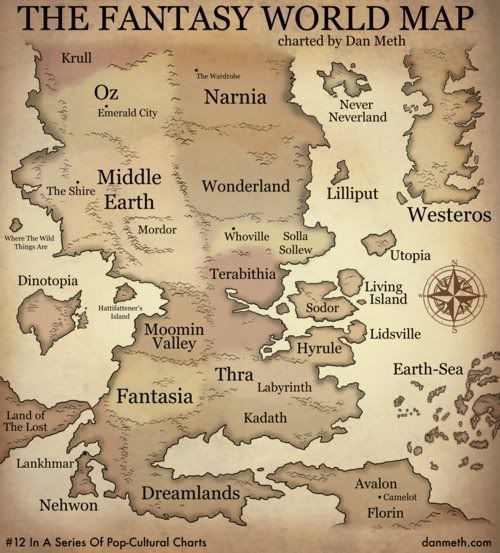 Can I just move to Fantasy World? I love that KRULL made it on there, cause LOL. That really is the frozen north where other characters are exiled to die. Weirdly I don't recognize all these names and I'm going to have to go look them up.
Also since Florin is next to Camelot... Inigo Montoya as the next Knight of the Round Table y/y?
But I'm pretty worried about any of the Narnians getting blown off course and winding up in Westeros... or vice versa really. Oberyn Martell's visit to Cair Paravel is never going to end well... Sandor Clegane in Wonderland would be EPIC. But maybe Tommen and Myrcella can escape to Neverland. In fact I'm going to just pretend that's what happened. :(
Tywin Lannister takes over Middle Earth.
Robb Stark/Susan Pevensie should be a crack!ship.